Day One Lighting
Our philosophy is to provide superior service and attention to detail,
regardless if it's a small order or a major project.
Day One Lighting offers a variety
of lighting services.
Design
We have the experience and creativity to design whatever is required for your project.
Installation & Fabrication
We offer installation & fabrication of low-voltage lighting systems.
Specification
We take pride in all we do and when it comes to installation, no detail is overlooked and done to perfection.
Consultation
Helping you navigate the complexities of emerging technology for your most challenging projects.

Read the latest testimonials from our dedicated Customers
Day One Lighting designed and supplied a custom LED light panel to back-light an onyx counter top on a media center. The light panel was quite large measuring 24″ x 100″. The onyx top also had a 2″ mitered front and end return panel which Day One Lighting designed into the light panel to back-light as well. The overall effect was quite stunning and the client was extremely satisfied. The light panel was delivered on time and in perfect working order. The knowledge and experience of their products was evident in the design and the outcome. It was a complete pleasure to work with Day One Lighting and look forward to using their services again.
Excellent company. I work with a lot of different vendors, and Day One Lighting is definitely at the top. Personal involvement, great ideas and a good resource for unique products for specialty lighting applications.
I have worked with Day One Lighting and Steve Gerhart for many years. In the capacity of lighting design I have not found anyone that is more knowledgeable or as current with all of the technology and products. Steve delivers on his promise and exceeds my expectation. I would not hesitate to recommend this firm.
I know no one with the knowledge in detail as Day One Lighting. It is your custom designs and unique ideas that inspire me most. Your LED designs are like unique art pieces to say the least.I will continue as always to refer you without hesitation. The job he did in Italy for my friend. His words were nothing but praise and respect.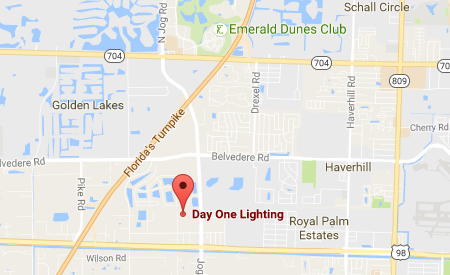 We got our start in 1998 when Steve, our founder, was working as a lighting designer with an architectural firm in South Florida.
Even though we have a strong presence in South Florida, we have the privilege of serving new and existing clients all over the nation.
We always start a new project with a design consultation meeting either in-person, by telephone, or video conferencing.